Meet Your Fishing Guide - Captain JayO!
Captain JayO has been fishing the waters of Mobile Bay and the surrounding areas for over 30 years, which makes him your best choice for a fishing guide in Mobile, Alabama and Dauphin Island, Alabama. Over his career, he has won and placed in numerous tournaments in the Mobile Bay area. Some of his accolades include:
Being an Alabama Deep Sea Fishing Rodeo Champion along with other placings in the Rodeo (the world's largest fishing rodeo as confirmed by Guinness Book of World Records).
Three-time Alabama Coastal Fisherman's Association Big Fish Champion (a yearlong contest where anglers can accrue points over 10 categories).
Setting 3 different Alabama Coastal Fisherman's Association all-time records.
Plus many other local tournament victories and showings.
His favorite fish to target are Trophy Speckled Trout and Tripletail.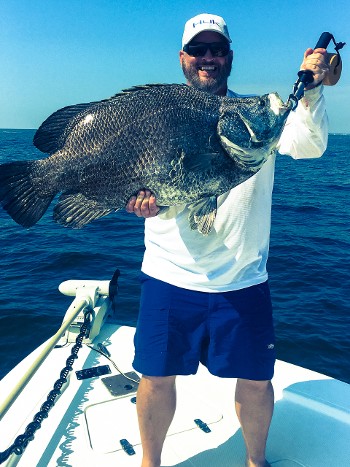 Captain JayO was born and raised in Mobile, Alabama.  He resides here with his wife and two children, and has always been drawn to the water. While at a young age visiting his grandparents in Crystal River, Florida Captain JayO fell in love with fishing. Captain JayO's grandfather taught him how to fish and inspired him to continue growing as a fisherman. His father furthered fueled this desire by taking him as often as possible to fish around Mobile Bay and Orange Beach during his childhood. That is why he founded a charter fishing company, to share his joy of fishing.
As a fishing guide, Captain JayO loves exploring the waters of Mobile Bay, Dauphin Island, Fort Morgan, the Mississippi Sound, Bayou La Batre, Fowl River, Theodore Industrial Canal, Dog River, Mobile River, Mobile Tensaw Delta, the Eastern Shore, and the Gulf of Mexico. He would love to spend some time with you, your family, friends, and/or clients to show you everything the Mobile Bay area has to offer.
Email us or call 251.379.1420 today to schedule fishing charters in Mobile and Dauphin Island, AL.